High Speed Steel Metal Sheet Strip Coil Shearing 0.3-1.2mm Slitting And Cut To Length Machine For Sale
High Speed Steel Metal Sheet Strip Coil Shearing 0.3-1.2mm Slitting And Cut To Length Machine is mainly used for the factories with small quantity request to slit coils into pieces, then produce roof accessories or do some other works, for example, ridge cap, flashes, gutters and so on.
Coil Cut to Length Lines are used for cutting different thickness materials from big coil roll into small pieces according to customer required length. During the cutting process, it need decoiler to take the big coil roll, leveling machine to make the coil sheet level and straightener, then feed into cutting device, customer set the length on PLC, then it will cut the coil into pieces accordingly, then to the stacker to pack all the sheet together. Sometime if customer required, we can also add the slitting function into the whole line, to make the cut to length line into Coil sheet slitting, leveling and cut to length machine. generally this simple line can slit around 5-6 pcs at one time, if client have special request, please tell us and we will produce the line according to client request.
For this economic Slitting And Cut To Length Machine, it is with below advantages:
1) Easy operation and maintenance with high level automation
2) Hydraulic decoiler with a loading car for easy coil loading
3) Straightener with multiple rollers for the maximum surface quality
4) Accurate surface treatment with high-quality rollers
5) High-quality cuts with minimum burr/scarps
6) Automated stacking system with high accuracy
7) Low cost, high quality, maximum efficiency suitable for many small and middle factories.

Workshop Layout:

Parts to introduce
Part 1: 5 tons hydraulic decoiler with car
1) The car can move levelly and vertically, which is convenient for putting the steel coils into the de-coiler.
2) It is driven vertically by hydraulic cylinder with 4 guide pillars
3) The level movement is driven by motor
4) Driving motor power: 0.75 kw, max capacity is 5 Ton.
Function: It is used to lift up and down, move forward and back to make it easy to load the coils on decoiler.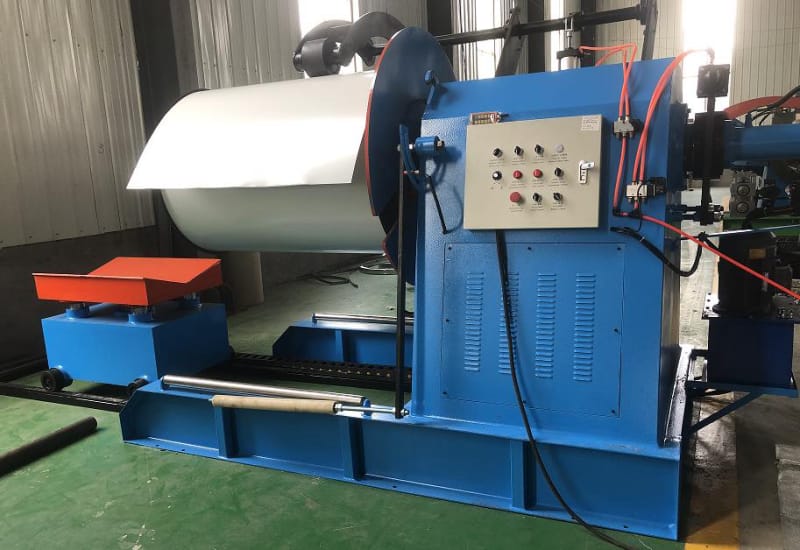 Part 2: Leveling and slitting & cutting machine
Feeding width: Adjustable,max 1250mm
Shaft material: 45 # steel with tempered
Shaft diameter: 70mm
Leveling roller: 13 rollers,up 5 down 6 with one pair of feeding roller
Leveling type: 4-HI level,the precision is higher than normal one
Slitting blade: 4 pairs
Motor power: 7.5 kw
Speed: About 0-20m/min,speed is adjustable
Roller space adjustment: Automatically adjusted by motor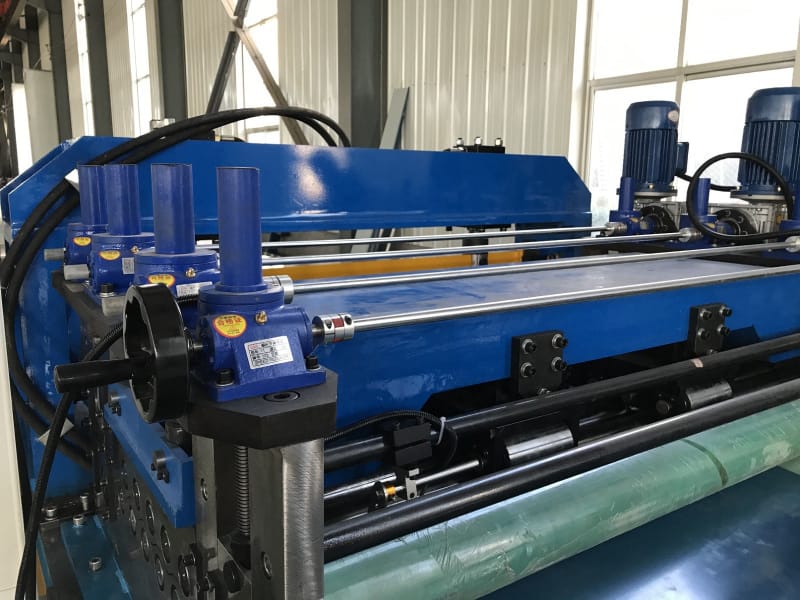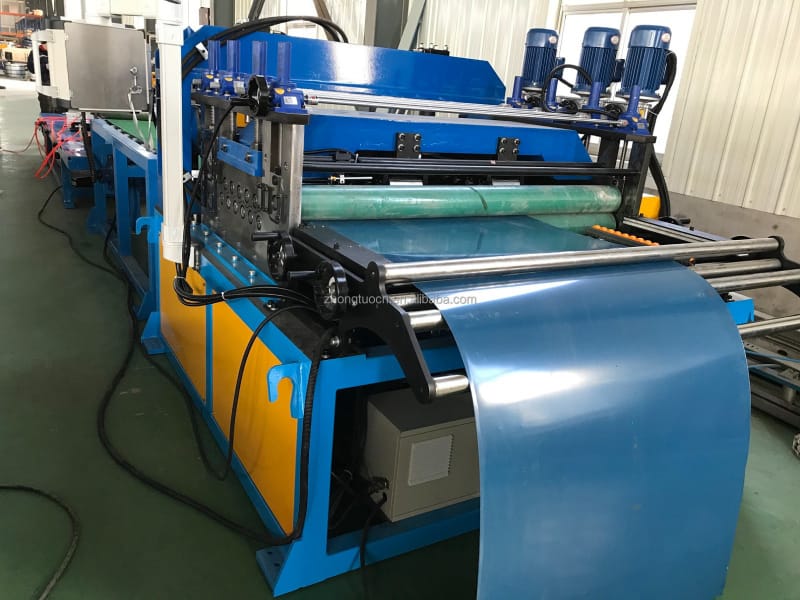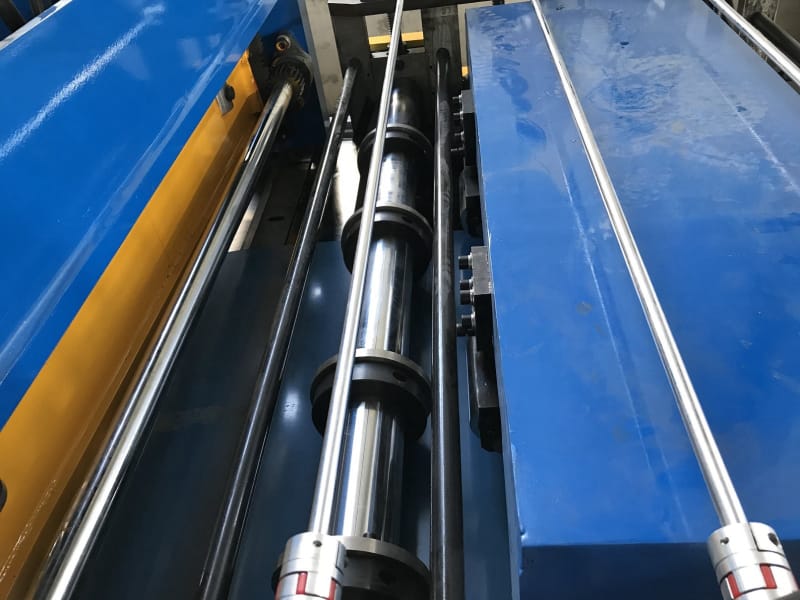 Part 3: Stacker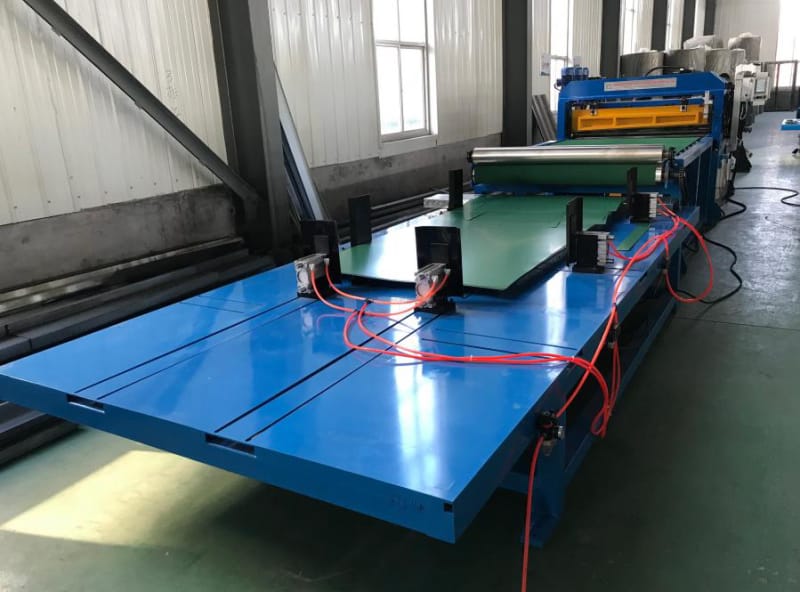 Full line working videos for reference:
https://www.youtube.com/watch?v=87-DkoTpjig
https://www.youtube.com/watch?v=Gw6VGyyz0XY
https://www.youtube.com/watch?v=4IePnoL2Z9Q