Light Gauge Steel Frame Machine--C89 villa frame rolling forming machine
In this article, I will introduce one type villa frame machine C89. It is the smallest one. Mainly it is used for drywall building part. the 89 model is generally used as the outer wall and the inner wall of the third floor or the partition wall (this equipment can be completed under the third floor); Generally used as an outer wall of six or less layers (in order to save materials, the outer wall is generally 140 models, and the inner wall is 89 models).
Here is the drawing profile for C89 villa frame rolling forming machine: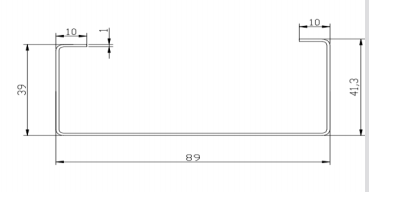 Supported material

G550 high tension grade plate, zine coated plate,

350 to 550 MPA (G 450 middle carbon steel in better.)

Material thickness

0.7 to 1.2mm
Here is the C89 villa frame rolling forming machine pictures for your reference:
Manul decoiler

ID is 450 - 550mm
Coil Width is 300 mm

Coil load 3 ton

Punchin device 6 sets

Punchine die material (SKD11)

1.50X12mm side hole

2. Beehive holes

3.Function bolt for easy installation

4. 60x30mm for cable tray holes

5. 89x50 for the square holes

6. web hole and 45 degree bending or shearing.

Note: if your country bolt sizes are different, please tell me in advance.

Main rolling forming machine

1. Transmission, we use gear, chain as tranmission.

2. Main servo motor: 5.5kw

3. Roller material: SKD11

4. Shaft mateiral : 40Cr

5. Forming speed: 30m/min

6. Production capacity: 80 to 100 square meter per day, if you work 8 hours per day.

Shearing System

Hydraulic station

1. Power: 5.5kw

2. Oil tank: 120OL

3. Brand: Yuken series

Design software

Brand: vertex system

It is optaical, you can choose others. Or if your house sizes are fixed, you do not need to buy.

And if you feel manual inputting parameters is okay, and you also do not need to buy the software.

PLC Control Sytem

1. USB input the documents

2. IPC computer on set(operator windows system 7 required)

3. It allows you to control holes position, distance.

4. Control shearing position.

5. Control production pieces.
In recent years, the national housing industry policy has been guided by energy conservation, environmental protection and industrialization. Therefore, under such a background, the state has successively introduced a series of industrial support policies to promote the development of light steel structure housing. Document No. 72 informs that "the development and application of the general system for light-duty steel structure residential buildings" is a breakthrough point for China's construction industry steel, and is officially listed as a national key technology innovation project"; since 2015, the municipality and the eastern coastal provinces and cities have New real estate projects strive to achieve green building standards by more than 50%.
Here are some installation scenes of C89 villa frame rolling forming machine: