Drywall profile channel roll forming machine for C Z U channel
Drywall frame C U Channel Machinery for drywall frame sections,T grid ceiling structure, equipment for light weight CU profile CU channel system for ceiling and drywall installation. Cheaper machinery and high efficiency production solution.
Drywall profile keel is a young and vital steel structure system, which has been widely used in general construction, agriculture, commercial and service buildings, such as office buildings, warehouses, stadiums, entertainment, tourist buildings and low-rise and multi-stoer residential buildings. Construction and other fields.
Customized drywall frame z channel steel keel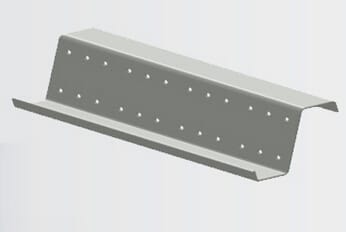 Drywall frame production line process
Uncoiler straightener 2 in 1 → Guide device → roll forming machine →shear device (including knife)→ finished product rack

Customized drywall channel drawing
CUZ Channel section drawing

Machines List
2 in 1 Uncoiler straightener
1, Type Manual Expansion
2, Parameter
1) Passive discharge
2) Coil weight:< 2T
3) Coil inner D.:φ450mm-φ530mm
4) Max. Width.400mm
5) Thickness .0.4-1.6mm
6) Straightener roller :7 pcs
7) Power.1.5kw
Servo Feeder
3.1 Max. feeding width:400mm
3.2 Feeding thickness: 0.4-1.6mm
3.3 Motor , 1.3KW
Guide device
Main Forming machines
5.1 Forming Roller:19 stations,and add Rub-roll, To make sure the surface profile no scratches.
5.2 Side Panel:T.18mm ,A3 steel Heavy duty 。
5.3 Rolling speeding: 8-12 m/min。
5.4 Roller material:#45,overall quenching, hardness HRC55-60 ℃.
5.5 Motor power:7.5KW。
5.6 Main Roller :¢65mm,45 #。
5.7 Equipment base: 400# H type using welded steel plate.
5.8 Transmission: chain drive.
5.9 Security: across the board with emergency stop buttons, easy to handle emergencies, to ensure that equipment and operator safety. And other gear in the chain and the staff could easily lead to injury transmission section covered with protective cover, to ensure the safety of workers.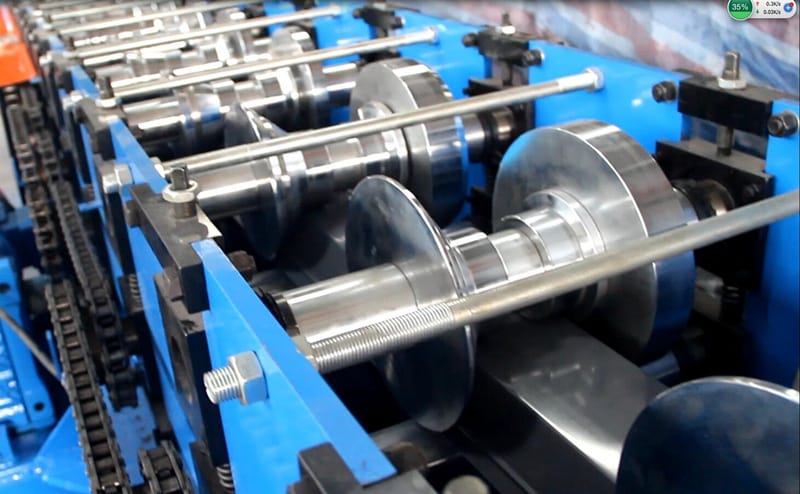 Electrical control system
The entire line imported PLC control, LCD touch screen, man-machine interface. People interact with the PLC. Operator setting the program to run automatically (programmable control) and control process monitoring, production line operator control and modify the control parameters, and real-time monitoring the equipment status & parameters and fault indication. Workpiece length digital setting, adjustable length can be adjustable as well. Real-time monitoring of equipment operating status and fault indication.
Operation manual / automatic two styles. With manual and automatic switching function: In the manual mode, can be stand-alone operation, easy maintenance; In automatic mode, carry out full production run, in order to start; across the board with emergency stop buttons, easy to handle emergencies, to ensure that equipment and operating personnel Safety.
Product Features
Guarantee of Quality
Our guarantee metal frame roll forming line design accordance with clients required drawing, machine is brand new. Specification and performance as stipulated in drawing and operation with good smooth. Formed metal frame can be fix well with each other metal parts.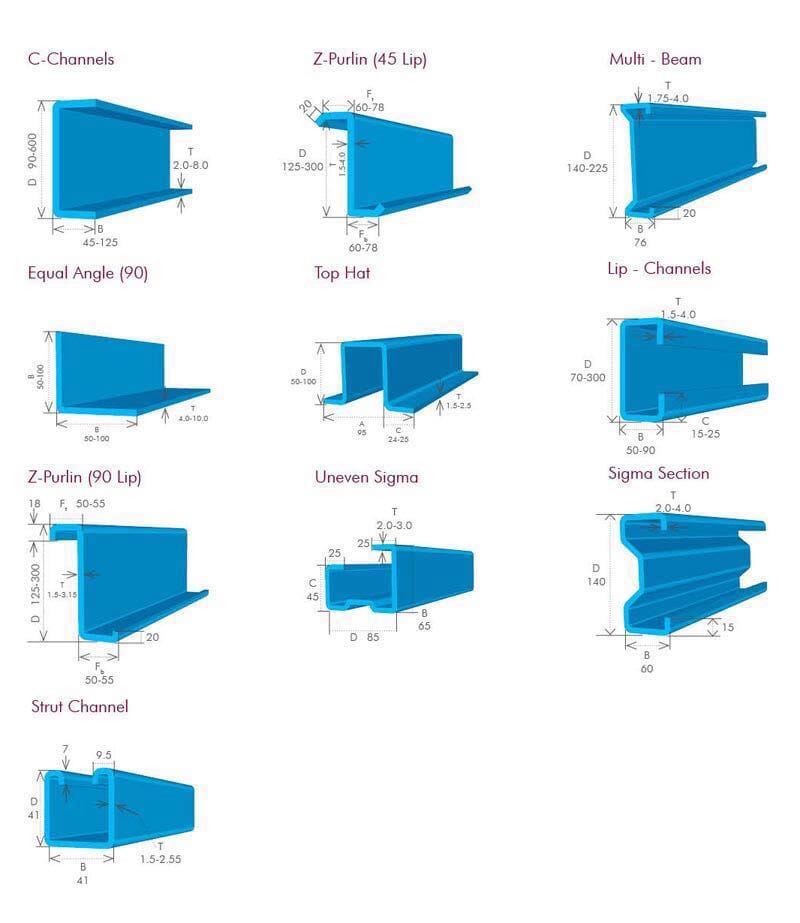 Steel frame roll forming machine advantage
1, Steel frame production line for producing metal frame.
2, PLC control system, automatically and easy handle.
3, Good quality roller with quench process, hardness reach HRC55-60℃.
4,Tracking cutting system with Cr12 Cutting blade.
Model and Meaning
Item CUZ roll forming machine
Drywall profile steel frames are lightweight steel frame.
Steel frame application
Steel frame is widely in using building. there are skeleton frame,vertical steel columns, and horizontal beams. adpot to support the floors, roof and walls of a building which are names as steel frame.
Galvanized steel frame can be roll formed as steel studs for use as a structural or non-structural building material for both external and partition walls in both residential, commercial and industrial construction projects. The dimension of the room is established with horizontal track that is anchored to the floor and ceiling to outline each room. Customized steel frame stud and track with reinforcement.
1. The light steel skeleton is divided into two types: U-shaped skeleton and T-shaped skeleton, and is divided into people according to the load.
2. The main components of the light steel skeleton are large, medium and small keels; the accessories have hanging parts, connecting pieces and hanging inserts.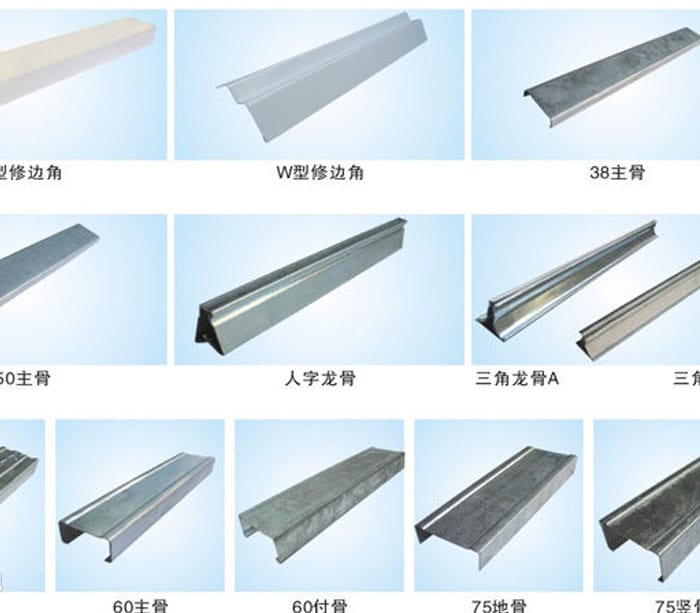 Technical Parameters
No.

ITEM

PARAMETER

REMARK

1

MATERIAL

Type

Cold-rolled strip steel, galvanized sheet




T.(mm)

0.6-1.0mm




Yield Strength

G245MPa




2

Forming product Width

CUZmm




3

Forming speed (m/min)

10-15m




4

Forming main power (KW)

7.5 KW

FYR

5

Hydraulic power (KW)

7.5 KW

FYR

7

Voltage

AC380V,50Hz,3P

Custimized