Hydraulic power driver CZ purlin machine
Description
Purlin roll forming machine is the most popular and has an extensive use in Metal Building Systems, Huge RoofingSolutions, Construction and Renovation Projects etc. Our Purlin roll forming machine could produce C purlin, U purlin, Z purlin, machineable size range as follow: Width:0-300mm, Height: 50-100mm, Thickness:1.5-3mm. Raw material could be: cold-rolled steel, Galvanized steel, PPGI, high-tensil steel.
The picture for your reference: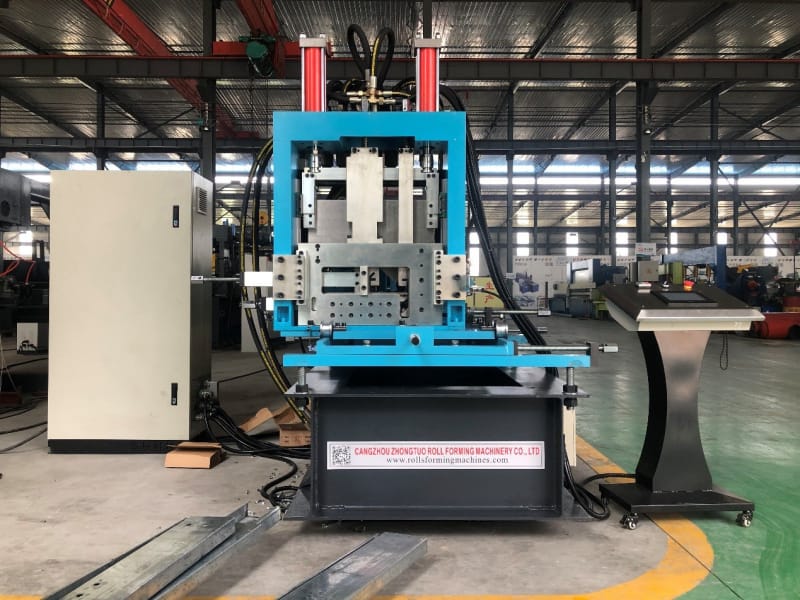 Hydraulic power driver
A Power Drive Unit is used to convert electrical or hydraulic power into mechanical motion (often rotary) and drive a mechanical actuation system.

Hydraulic CZ purlin machines use liquid fluid power to perform work. In this type of machine, hydraulic fluid is pumped to various hydraulic motors and hydraulic cylinders throughout the machine and becomes pressurized according to the resistance present. The fluid is controlled directly or automatically by control valves and distributed through hoses, tubes, or pipes.
Hydraulic systems, like pneumatic systems, are based on Pascal's law which states that any pressure applied to a fluid inside a closed system will transmit that pressure equally everywhere and in all directions. A hydraulic system uses an in-compressible liquid as its fluid, rather than a compressible gas.
The popularity of hydraulic machinery is due to the very large amount of power that can be transferred through small tubes and flexible hoses, and the high power density and wide array of actuators that can make use of this power, and the huge multiplication of forces that can be achieved by applying pressures over relatively large areas. One drawback, compared to machines using gears and shafts, is that any transmission of power results in some losses due to resistance of fluid flow through the piping
These are pictures of hydraulic station for reference: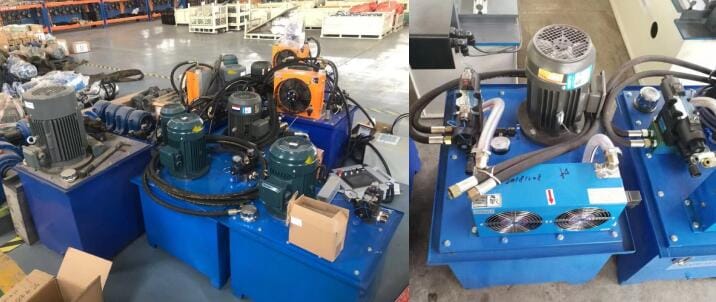 Change using automatic system
According to your section profile, size range, thickness range we could provide you different solutions of purlin roll forming machine to manufacturer a complete range of structual purlins(height and width change using automatic system by motors):
Only to produce C/U section, change time: few seconds
C/U/Z section-manual change whole line from C to Z, change time: 10 minutes
C/U/Z/M section-manual change 4 stations from C to Z, change time: 2 minutes
C/U/Z/M section-automatically change from C to Z, change time: few seconds
Regarding the cutting unit ,you can choose the pre-cut, post cut or both. Gearbox driving system with cast iron stands are more durable and recommendable.
If you only need to produce few sizes, we also suggest manually change sleeves, it's more affordable.
We make different solutions according to customers' drawing, tolerance and budget, offering professional one-to-one service, adaptable for your every need. Whichever line you choose, the quality of Zhongtuo Machinery will ensure you obtain perfectly functional profiles.
This the profile drawing for reference:
Size adjustment:

Process flow:

The main forming part:
This CZ purlin quick changeable roll forming machine is a mature production line. We have 10 years of experience in this machine. It's more affordable, economic and it's our best-seller. It adopts pre-cut system to avoid changing too many blades, which saves time for you. Sizes can be changed by motor automatically. Changing time from C to Z need 10 minutes. Zhongtuo Machinery is your best choice for purlin roll forming solution
Forming part pictures for reference:

Technical specification:
Purlin Roll Forming Machine

Machinable Material :

A) Galvanized Coil

Thickness(MM): 1.5-3

B) PPGI

C) Carbon steel Coil

Yield strength :

250 - 550 Mpa

Tensil stress :

G350 Mpa-G550 Mpa

Decoiler :

Manual decoiler

* Hydraulic decoiler (Optional)

Punching system :

Hydraulic punching station

* Punching press (Optional)

Forming station :

18-20 stations

Main machine motor brand :

Shanghai Dedong (Sino-Germany Brand)

* Siemens (Optional)

Driving system :

Chain drive

* Gearbox drive (Optional)

Machine structure:

Wall panel station

* Forged Iron station (Optional)

Forming speed :

10-20 (M/MIN)

* Or according to your profile drawings

Rollers' material :

Steel #45

* GCr 15(Optional)

Cutting system :

Pre-cutting

* Post- universal cutting (Optional)

Frequency changer brand :

Yaskawa

* Siemens (Optional)

PLC brand :

Panasonic

* Siemens (Optional)

Power supply :

380V 50Hz

* Or according to your requirment

Machine color :

Industrial blue

* Or according to your requirment