CZ rolling forming machine
CZ changeable Purlin Forming Machine is an equipment that produces C/Z shaped steel channels continuously out of galvanized or cold rolled steel strips from feeding, punching for holes, bending and cutting.
CZ purlin machine options
After more than 10 years developing and searching according to different customer requirements, here we desinged the following types CZ purlin machine

Drawing profile and size change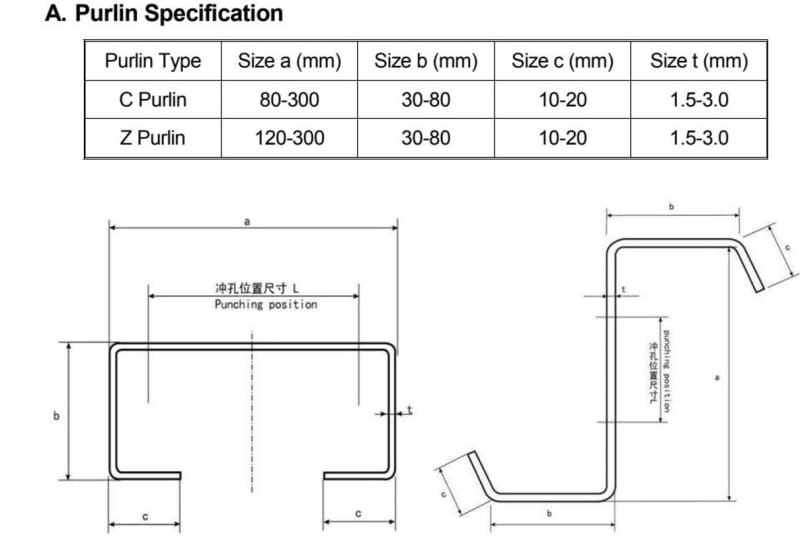 Punching Drawing :
Here is one example drawing profile for your reference. As default we give 4 punching station, if you have more types we can add. Normally it has side holes and bottom holes.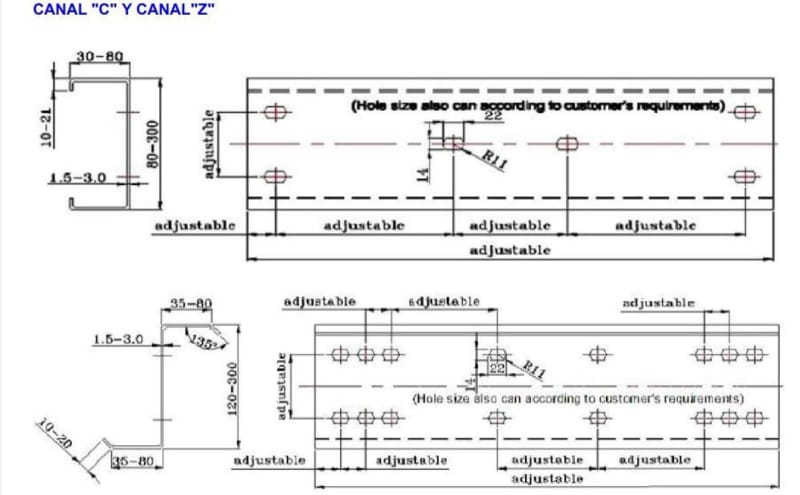 CZ purlin working flow
Uncoiler – (Pre-Shearer) –Leveling & Guiding – Main Roll Forming Machine – Hydraulic Punching – Hydraulic Universal Cutting – Run out Table

General Information:
The machine is able to produce both C and Z purlins for various sizes, easyoperation, and high efficiency.

Speed: Max. 25m/min (not including cutting and punching)

Main machine size: about 9600 x 1500 x 2000mm

Weight: about 13T

Voltage:380V,3P,50 Hz or customize
Each part elements introduction
1. 3 Ton hydraulic decoiler Or you can choose 5 ton or double head decoiler
Uncoiler type:Hydraulic single head Capacity:5000kg
Expanding type:Hydraulic Coiler I.D:Φ500-560mm Coiler O.D:Max.Φ1000mm Coiler width:Max.300mm
Dimension(L×W×H):Approx.1000×800×1650 mm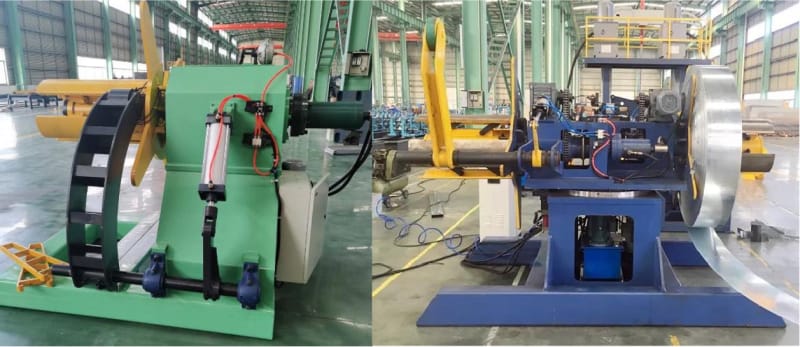 2.Leveling part
˃ Leveling system: top 3 and bottom 4 rollers, with extra 2 couple of pinch rollers.
˃ Leveling roller diameter: Ø 80/100mm
˃ Rollers are solid shaft with heating treatment, polishing and galvanizing.
˃ Guiding system including guiding shaft and guiding rollers, their width is adjustable in order to suit for various steel strips.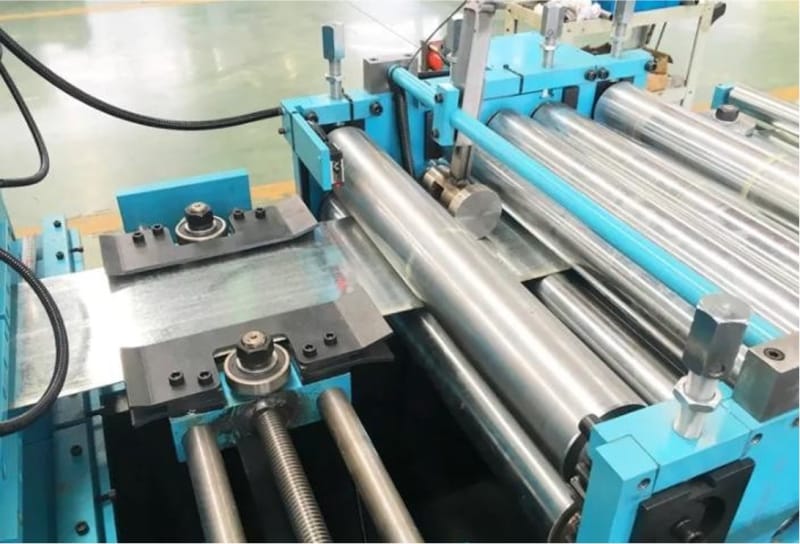 Main Rolling Forming Machine transmission part
˃ As to the main rolling forming machine, transmission, we have three options:
˃ Normal motor, brand optional like Simens motor or others.
˃ Servo motor.
˃ Hydraulic power: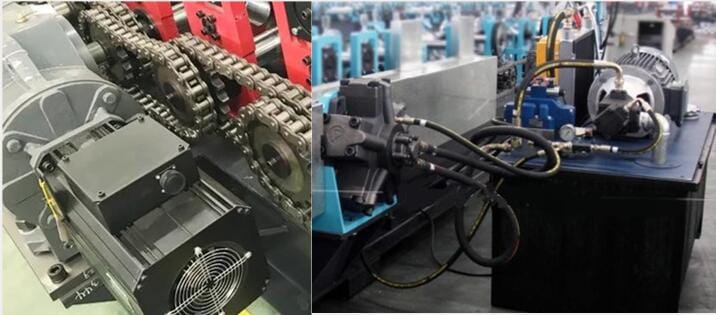 Main rolling machine
1. Roll stand: 18 stations, chain transmission.
2. Roller material: GCr15 with heat treatment, polishing and galvanizing.
3. Main motor: hydraulic drive, power: 22KW, tank: 500L, with air cooling system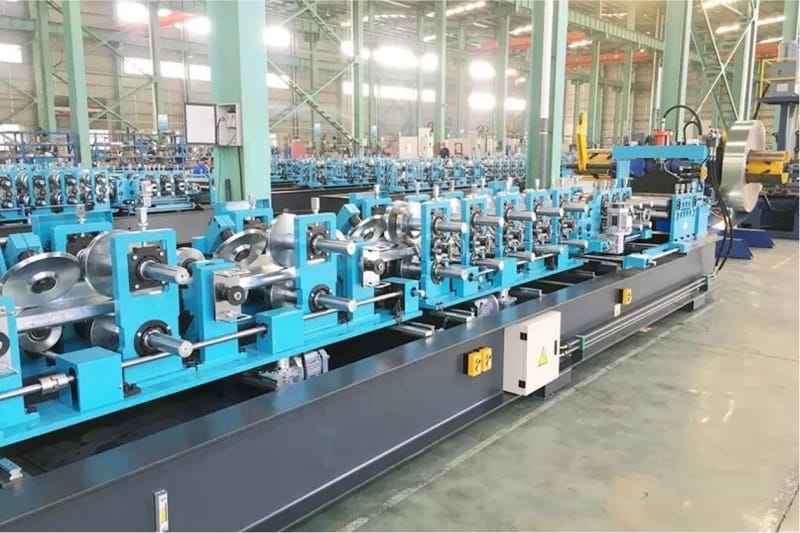 4.Main shaft: 40Cr with heat treatment, polishing and galvanizing.
5. Machine frame: welded by iron plate, with flat planer finish machining. The levelness is measured by electronic level meter.
6. Machine surface adopts powder coating, coating before assembly.
7. CZ Interchange: turn over the roller box to 180 degree.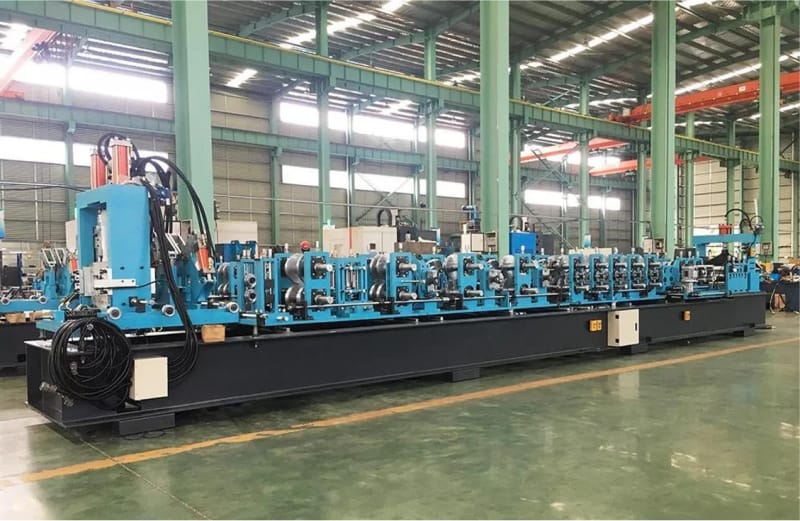 Universal Cutting System
Material of cutter: Cr12MOV, quenching.
Universal cutters: one for size (80-200mm), another for size (200-300mm) Cutting length, cutting pieces, and punching are controlled by PLC. Punching & Cutting when machine stop.
For this part, when sizes changing, you need to adjust the height and width by hand.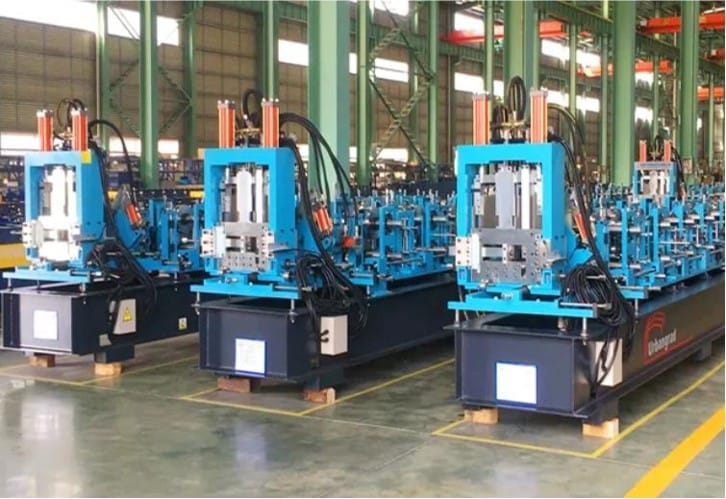 PLC control part Power Supply & Control System
˃ Power supply & control cabinet: 1 set.
˃ External controller: 1 set, it will be convenient for inching control FWD/BWD during testing and production.
˃ Operation platform: HMI & Button, with English language display.
˃ Control system: PLC (Omron)
˃ Key components adopts international famous brand.
˃ Optional: Servo Main Motor, PLC, HMI, Control Program etc. complete electrical control system designed with Industrial Siemens Smart Line.
For more information, please check the following video: