C channel steel roll forming machine
C steel roll forming machine technical parameters
Equipment length 7600mm, width 950mm, height 1000mm;
power equipment is 11 kilowatts, hydraulic station power is 11 kilowatts;
Roller bearing steel (GR15), after annealing forged;
Base with 320 I-beam;
Adopted under five on four leveling, to ensure smooth;
Using secondary molding type, ensure equations and Cartesian products, top size can be produced;
Rolling material thickness 1.5mm-3mm (also according to user requirements and design thickness);
The width of the Rolled C steel is 80mm-300mm;
Rolling speed 8-9m / min;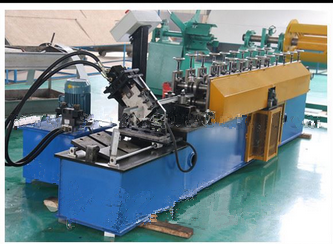 Use of new butt regulatory steel sets, simple, fast and secure;




C steel roll forming machine direction for use
C steel roll forming machine is a roll to produce a variety of specifications C purlin roll forming machine finished single.It made from Manual de-coiler ,Electric Feeding ,Servo motor feeding ,oll Forming Machine,Computer Control Cabinet,Automatic cutting Mechanism ,Run-out Tables.This machine is used automatic punching,simple operation and so on.
C steel roll forming machine equipment rolled C steel finished with good pressure perfomance tension good flatness,automatic fixed-length cutting, automatic punching, high degree of automation, quick and easy installation, the product can be used as medium-sized industrial buildings the main load-bearing structures, such as factories, warehouses, machine garages, hangars, exhibition halls, theaters, stadiums, fairs trellis roof and wall flat load bearing support.Cold-formed steel is the main material production of light steel structure, the use of steel or steel roll forming material.
C steel roll forming machine made the wall thickness can very thin,and it simplifies the production process,improve the production efficiency .It can be produced hot-rolled with the general method but difficult to produce a uniform cross-sectional shape of the complex variety of profiles and cold-formed steel of different materials.