H

eavy gauge metal drywall studs

and tracks

roll forming

machine
Where the Metal Studs and Tracks use ?
Heavier gauge metal studs and tracks are used in load bearing walls and structural applications such as exterior walls. Lighter gauge metal studs are used in non-load bearing applications such as some interior walls, half-walls, and partitions.
What Cangzhou Zhongtuo Can We Do For You?
We can offer different solutions of fully automatic studs and tracks production line from low speed to high speed. You can tell us your budget and what sizes of studs and tracks you want to produce, then we give you some advice.

How Do Our Production Lines Perform?
Excellent. Take the fast speed 70m/min machine as an example, production speed can be adjusted by our self-developed computer control software, then servo motors and worm speed reducers will set the machine accordingly. When you want to produce different sizes, the machine will be changed to the sizes you need automatically, save time and labor.
What Do We Do to Make Our Machines Work Stable?
CR12MOV mold-steel-made rollers and cutting mold, 50mm thick base panel, 40mm diameter axle, customized servo motor from Yaskawa, Main motor from Siemens. All good material and electric parts from famous brands.
Drywall Metal Stud And Track Making Machine Production Process:
Material Coil - Decoiling - Roll Forming (- Flying Punching) - Flying Cutting Off - Finished Profile.
NO.

Equipment

Specification

Qty.

1

Manual Decoiler

(1) Inner Diameter: Ø 460 - 510 MM

(2) Loading Capacity: 1000 KGS

(3) Manual Operating Type: Manual Expansion To Tighten The Coil

1 Unit

2

Roll Forming Machine

(1) Quantity Of Rollers: 12 Groups

(2) Roller's Material: Cr12 Steel, Heat Treatment, Quenched

(3) Roller's Surface Treatment: Polished

(4) Roller's Main Shaft: Ø 40 MM, 40 Cr Steel, Quenched & Heat Treatment

(5) Bearing: HRB Bearing, Best In China

(6) Machine Side Wall: 25 MM

(7) Machine Base: Welded By 80 Square Pipe

(8) Driving Method: Chain & Gear Or Gearbox

(9) Coolant System: Equipped

1 Unit

3

Flying Cut-Off Device

(1) Hydraulic Pump Stand: 1 Set, Auto Start / Stop

(2) Hydraulic Cut Modular: 1 Set

(3) Modular Material: Cr12Mov (CN Standard) / SKD11 (JP Standard)

(4) Length Tolerance: ± 1.0 MM

(5) TBI Linear Guideway & Ball Screws: 1 Set

(6) Hydraulic Components: Taiwanese

(7) Hydraulic Overload Protection Setting: Maxi. & Mini. Pressure, Pump Stand & Forming Machine Stops & Starts, With Wind Coolant System, Filter Function

1 Unit

4

Run-Out Table

/

1 Set

5

Control System

(1) Controller: Motion Tracing Controller, Single Axis

(2) Touchable Screen: 7" Color Screen, WEINVIEW

(3) Encoder: Omron, Japanese

(4) Button / Knob: Schneider, France

(5) Speed Control: Frequency Converter

(6) Power Supplier: As request

1 Set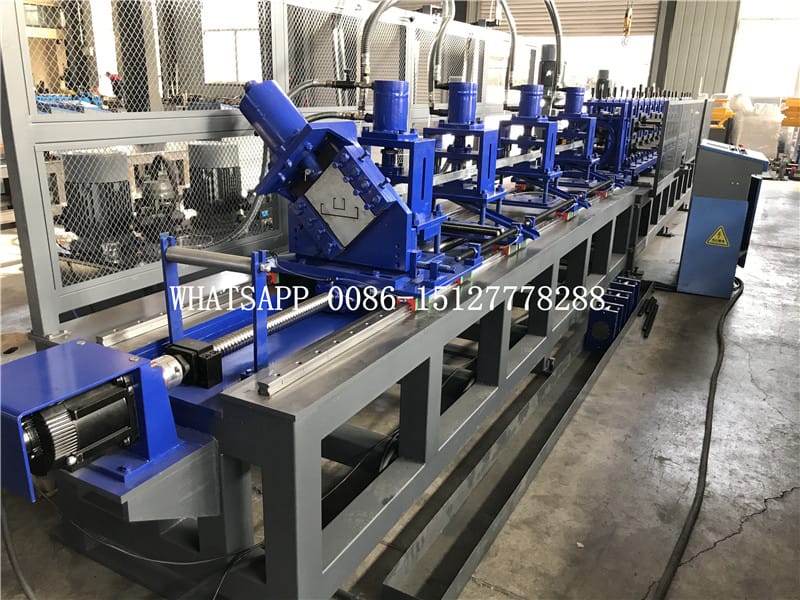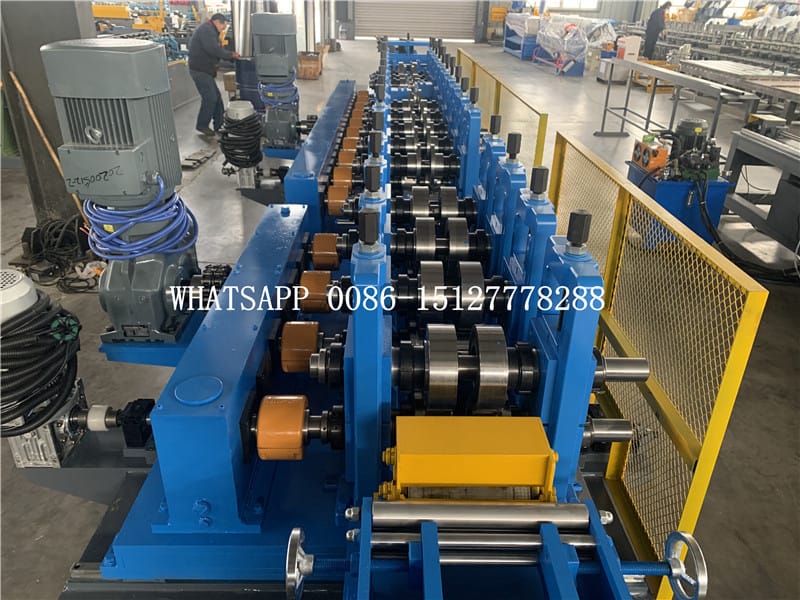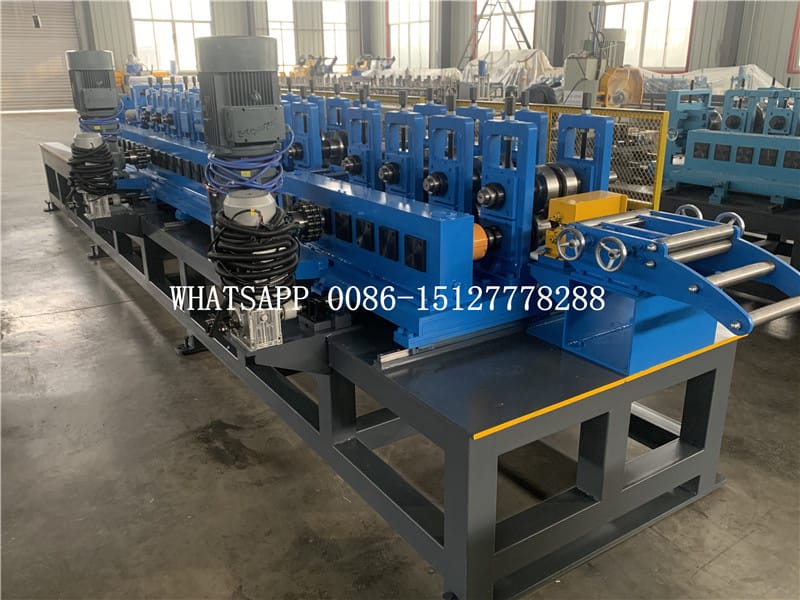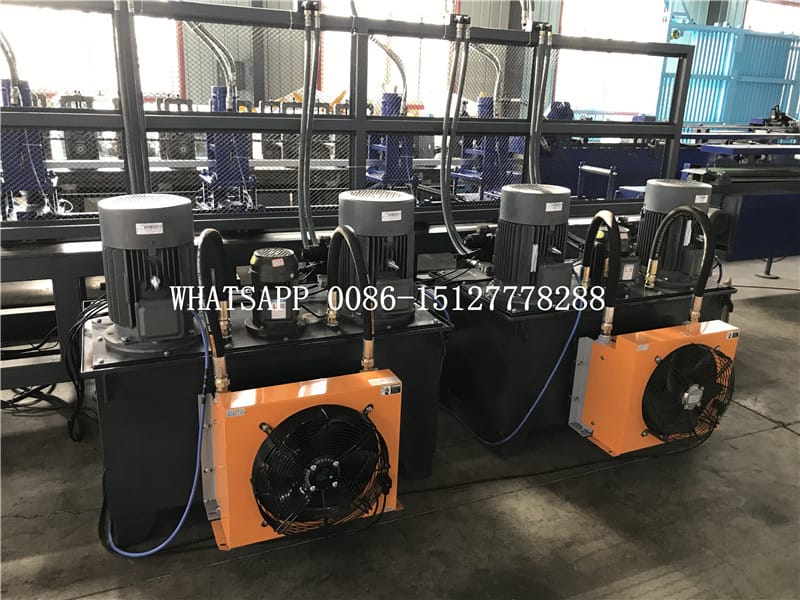 Because the labor cost is very expansive in USA and Canada market, most clients will choose automatic strapping and bundling machine to pack the studs and tracks automatically, if you also have such request, please tell us freely, we can produce the automatic strapping and bundling machine for you according to your personal request.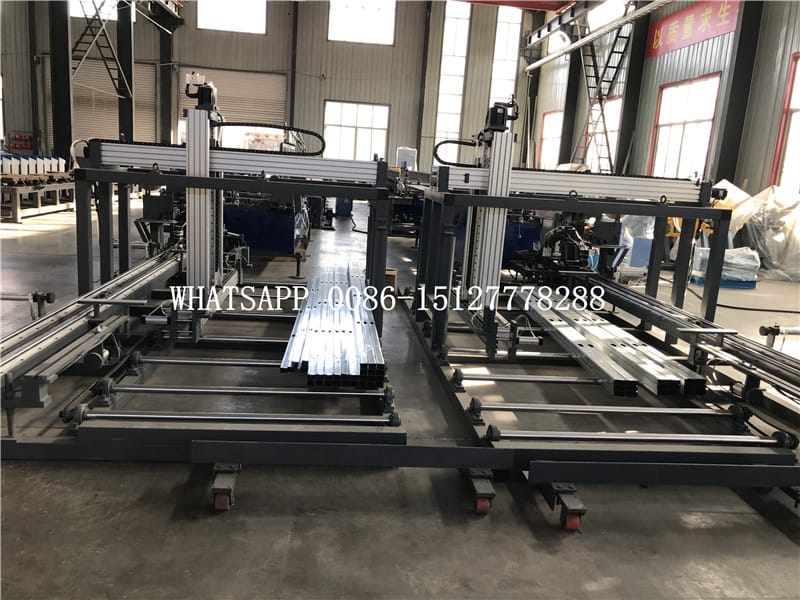 We also have other kinds of roll forming machines for you choose, welcome to contact me by following contacts: