A tube mill needs a cutting saw to cut tubes. And there are computer cutting saw and cold cutting saw. Here we introduce one size of our cold saw for 2" tube mill.
1.Equipment Specification
1.1General
1.1.1type and picture: ZT-28
1.1.2Scope of application: Carbon steel, Q235 and under.
1.1.3Pipe specification:
Round: MAXØ50 mm Square:MAX35X35mm
Rectangle: less than MAX20X50mm Wall thickness: 0.6 ~ 2.5mm
Inside bead NOT removing.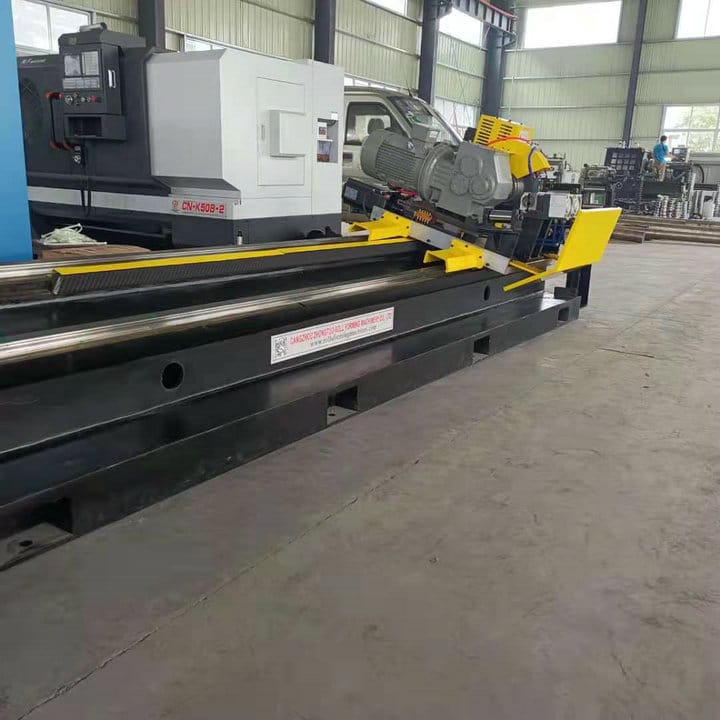 1.1.4Max. line speed: 120 m/min.(Less than 25 in diameter)
1.1.5Cutting length: 1.5 ~ 99 meters.
1.1.6Length precision: ±1.5 mm (line speed fluctuating less than 2%)
1.2Electric Description
1.2.1Driving motor: servo motor 11KW/2000rpm, from PHASE, Servo controller power: 11KW, from PHASE
1.2.2Feeding motor: servo motor1.9KW/2000rpm, from PHASE . Servo controller power: 2KW from PHASE
1.2.3Blade motor: AC motor 7.5KW/1460rpm, from SIEMENS. Frequency converter power: 11KW SIEMENS
Servo controller power:11KW ,SIEMENS
1.2.4All three motor cable from Germany SIEMENS
1.2.5Length measurement:2000 pulse encoder. IP65 waterproof and dustproof from OMRON.
1.2.6Control cabinet: 1000*600*2200mm, Operating desk: 800*510*1100mm.
1.2.7Driving axis run a E-CAM curve. Float home point of saw platform. Customer can set home point according to the length of tube. Fixed back point of saw platform for section receiving.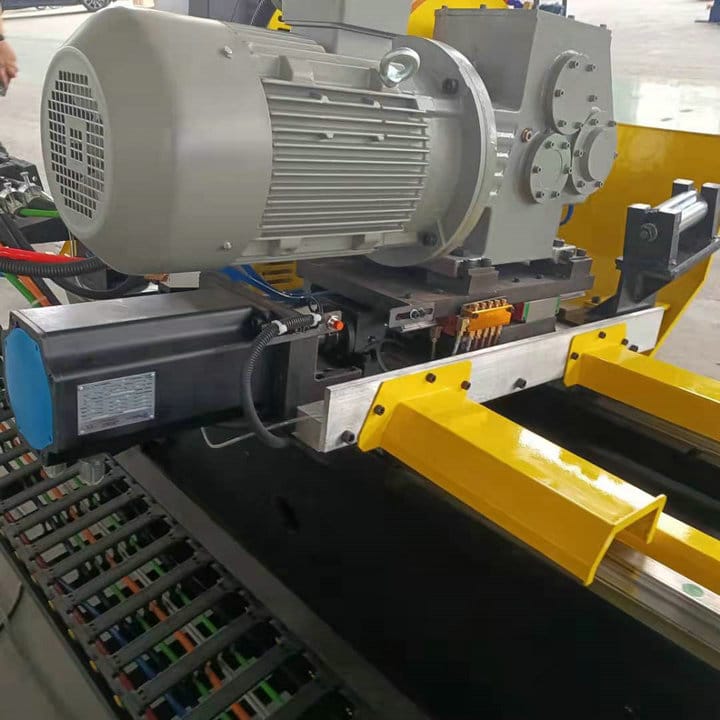 1.2.8Saw blade automatic tool setting. The feeding axis detects the blade diameter automatically, without manual measurement.
1.2.9Support up to 6 length groups and online changing the group. Max setting length 99m.
1.2.10Support up to 24 pipe recipe. Including tube thickness, feeding distance, teeth feeding, etc. The customer just picks up recipe when changing pipe.
1.2.11Via expand the system I/O points, meet the customer requirement of sort, packing of the pipe.
1.2.12Through 4G wireless network, 24 hours of remote online diagnosis, fault query, fault repair and program update download function are realized, and unattended after-sales service is realized, so as to solve the worries for users.
1.3Mechanical Description
1.3.1Machine dimension: 4420*1380*1350mm
1.3.2Machine weight: 2250Kg (approximately).
1.3.3Blade gear box: special design for cold saw (ratio 9)
1.3.4Blade: HHS 350mm diagram, 180/200 teeth, 50mm centre hole, 4*15*80 dowel hole. Offer 1 pcs
1.3.5HSS blade has at least 20mm additional diameter for re-sharp.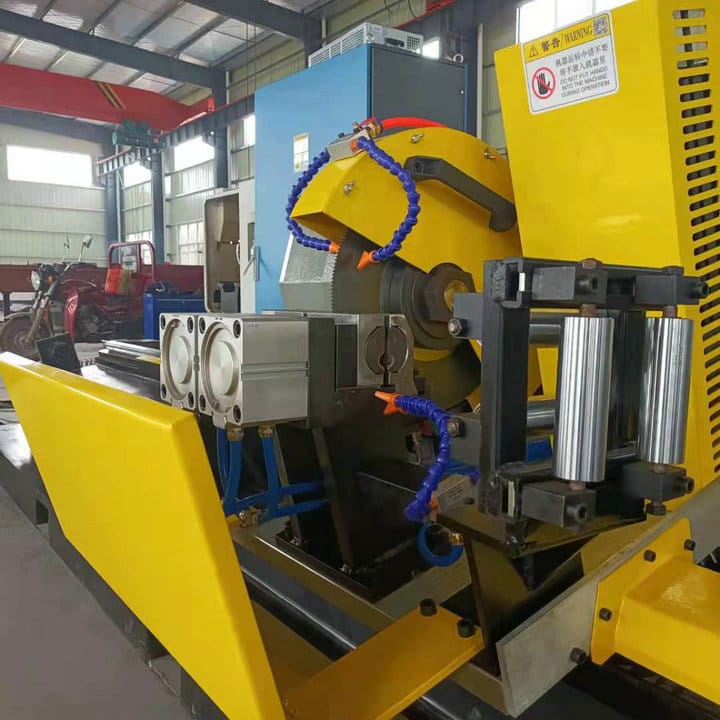 1.3.6Gear rack length: 3 meters, from KH, Taiwan.
1.3.7Linear guide system: 5 meters, from HIWIN, Taiwan.
1.3.8Feeding ball screw system: 45mm diagram, from HIWIN, Taiwan.
1.3.9Clamp: 2 group with cylinder. fixture Offer 1 set
1.3.10The saw blade is equipped with wire brush device, which can be locked/removed to clean, convenient to adjust, and remove the iron scrap on the saw blade when rotating.
1.3.11The main shaft is equipped with a saw blade buffer (program protection), which can reduce the vibration of the saw blade and prolong the life of the blade.
1.3.12The device base is equipped with an entry guide roller (upper and lower roller) (with an eccentric way to adjust the height of the roller). The last set of fixtures comes with a bracket;
1.3.13Each block is equipped with adjustable cooling emulsified liquid spray pipe to flush impurities and iron chips on the washing clamps, and no need for independent water supply device; The retaining nut of the fixture has anti-loose mechanism;
1.3.14Saw cutting mode: saw blade and feed adjustable, that is, feed servo
motor speed inconsistent, saw blade speed consistent; 3 segments adjustable (ensure the steel pipe does not change, no burr)
1.3.15The measuring roller device adopts the double roller spring form
The precise moving parts are provided with an oil pump which can automatically fill the lubricating oil. The filling amount of each component is adjustable.