Automtic channel profile cz purlin machine cz sigama purlin roll forming machine
What are C purlin and Z purlin?
C purlins and z purlins are part of the secondary framing structure. They're designed to distribute loads from the surfaces of your metal building to its primary framing and foundation. This adds longitudinal support and provides lateral bracing for compression flanges, increasing the overall frame capacity.
How many kinds of C Z purlin machine ?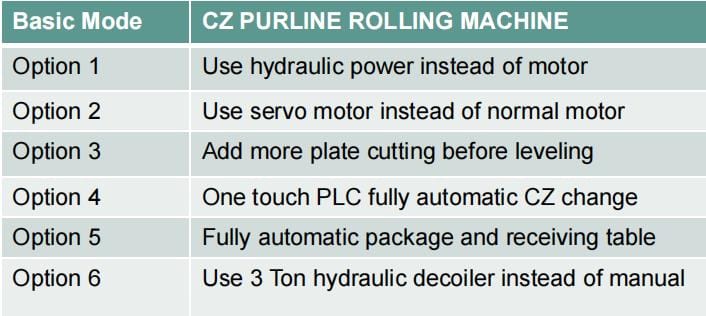 For this machine we display is the option 4, one touch can produce C purlin to Z purlin directly, very quick and easy.
C Z Purlin Machine Main machine parameters:
Voltage:As client request
Weight of machine: about 16 t
Material thickness: 1.5-4.0 mm,
Yield strength≤G345Mpa
Processing material: PPGI,GI, Q345, HR steel etc.
Machine working space: about 13 m x 1.5 m x 1.7 m
C Z Purlin Machine Working speed:
0-25 m/minute without punching and 0-12 m/minute with punching, If punching profile G, the most complicated, the min speed is 8m/min.
C Z Purlin Machine Working Layout:

Working Flow:

Decoiler- feeding- leveling - roll forming- - punching- cutting- receiving table

Machine components:

Manual decoiler 1 set;

Main roll forming machine (feeding - leveling-punching - roll forming- cutting) 1 set;

Hydraulic station 1 set;

Control computer 1 set;

Receiving table 2 sets;

Maintain tools 1 set;

Instruction manual 1 brochure.

Manual Decoiler System

Loading capacity: 5 t

Uncoiling width: 500 mm

Inner diameter: 450-550 mm

Feeding and Flatten

Feeding rollers+guiding rollers

Flatten:Up three down four additional two stations guiding and sending, full solid shaft heat treatment with blasting and chroming.

Main roll forming system

Main forming: 18 stations forming (inside 1 station for forming flange, 87-95 degree adjustable), 13 stations CZ change mould, turnover 180 degree to finish the change. Changing the Specification size by means of an electric button.

Rib forming: Straight rib.

Straighten: 10 rollers CZ special-use double axis straightening and 4 rollers

Double axis straightening, total 2 straightening units.

Guiding and sending: Driven by up and down gears.

Punching system

2 Punching device,one is for bottom and another one is for waist

Hole's size can be customized as request

Hole's length and be adjusted

Cutting System

It employs post-cutting, hydraulic drive and automatic

location to decide the dimension and cut target

products, ensure stability, precision and cutting speed.

Cutting type: after forming stop cutting

Power supply: hydraulic power

Material of blade: Cr12mov quench treatment

Length measuring: automatic encoder measuring

Tolerance of length: 3000mm± 1.0mm

For cutting blade, you can manually adjust the cutter to cut different sizes of c z purlin. NO need to change new blade and this cutter is easy to operate.

Receiving Table

Frame: weld by angle steel and square tubes, on the top with support rollers.

Table type: no power

Diameter of rollers: 55mm

Table size: 3.0 x 1.0 x 0.9m

Quantity: 2 sets

Control station

Main control cabinet: 1 set

Change way: (motorized) change model, (3pcs of motors: 0.75Kw*3)

Change wiring box: 1 piece (installed in the middle of machine)

External controller: 1 piece (to control the running direction forward or back during the testing or production manually)

Main electrics origin: PLC (Japan Omron), touch screen (Xinjie), relay (Japan Omron), proximity switch (Korea Autonics), encoder (Japan Omron)

Hydraulic station

Hydraulic tank: motor power 22Kw

Tank volume: 500L

Maim component origin: magnetic valve Beijing HUADE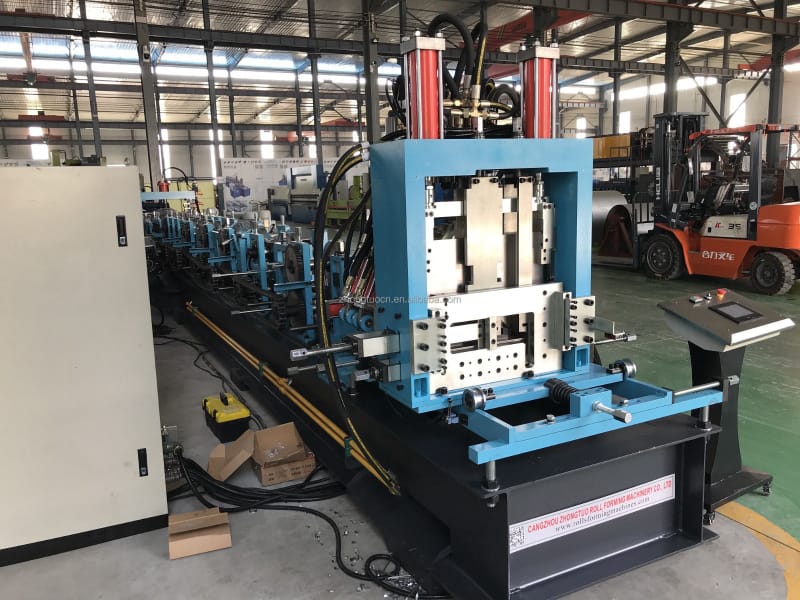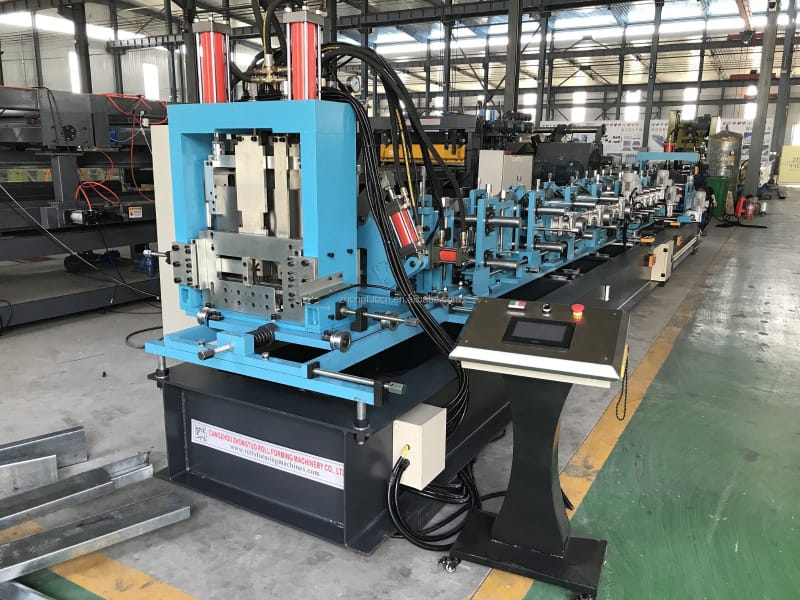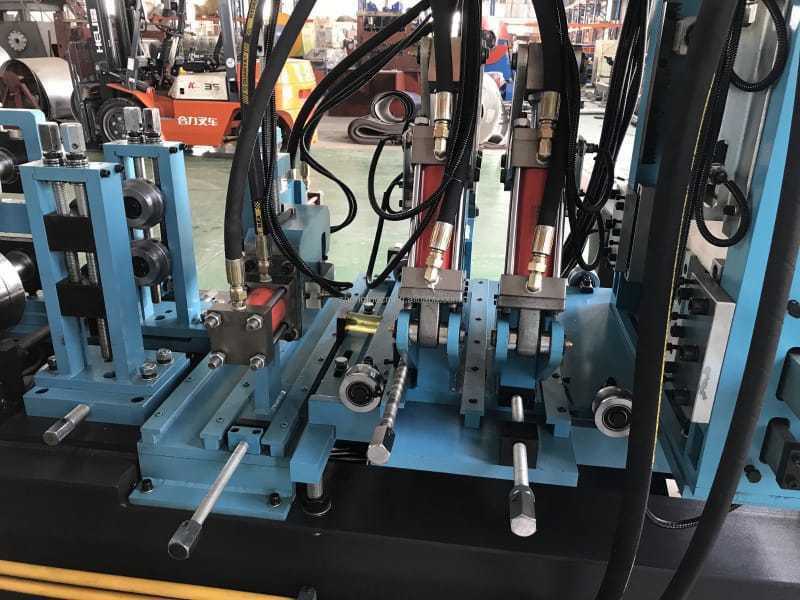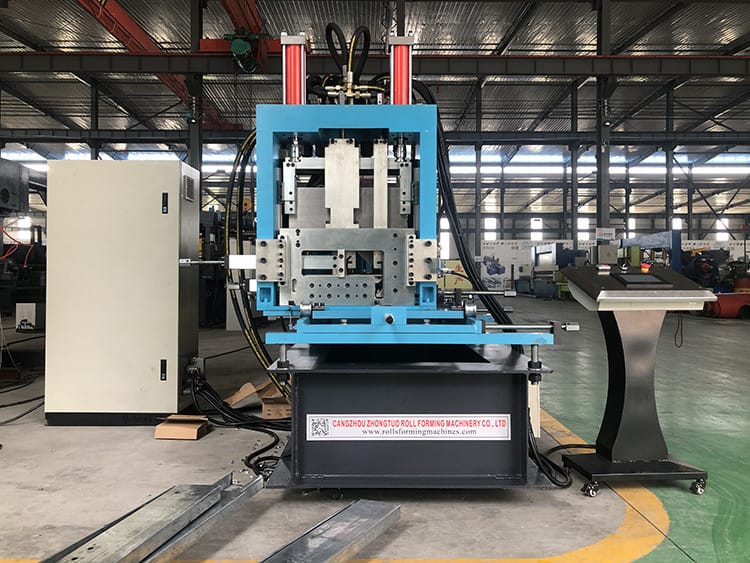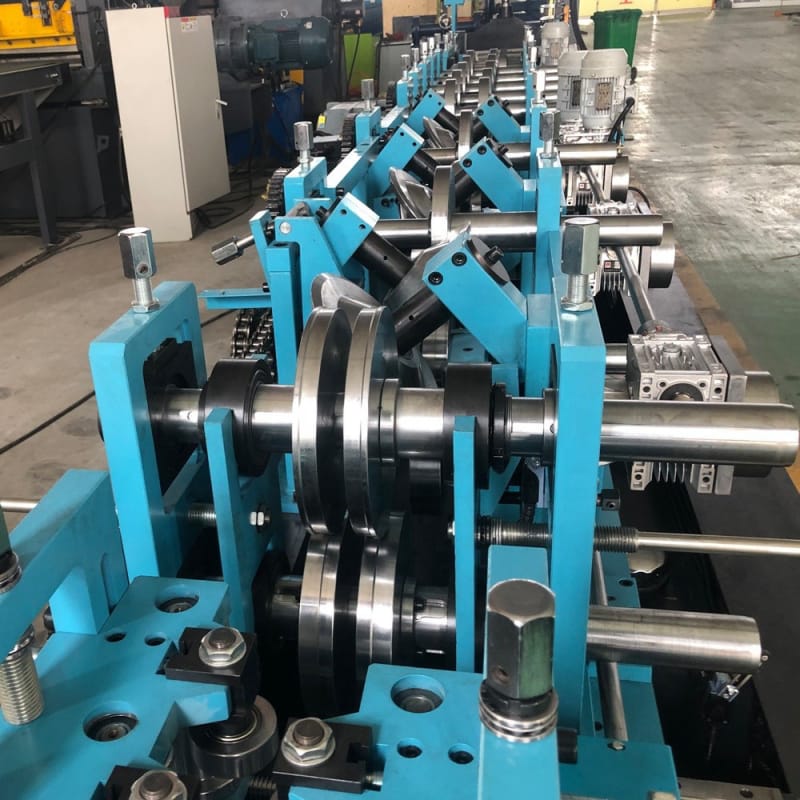 C Z purlin machine working video for reference:
https://www.youtube.com/watch?v=6cAkpHRNxxs