top selling high quality wholesale ceiling t bar frame price
- Raw materials : ZINC coating from 80 to 275 gram per square meter , also can use the stainless steel mirror or aluminum mirror .
- Thickness : Form 0.25mm to 0.40mm .
- Dimension :
Length : Main Tee up to 3.75 meters ,Cross Tee up to 1.22 meters ,
Width : From 14mm to 24mm and Hight from 24mm to 38mm .
We can produce any size to meet and install your ceiling .
- Colour : The surface is white , but also can be stainless steel mirror and aluminum mirror .
Item

Description

Width (mm)

Hight (mm)

Thickness (mm)

Length

1

T24 MAIN TEE

24

38

0.25~0.40mm

up to 3.75 meters

32

0.25~0.40mm

up to 3.75 meters

28

0.25~0.40mm

up to 3.75 meters

26

0.25~0.40mm

up to 3.75 meters

24

0.25~0.40mm

up to 3.75 meters

T24 CROSS TEE

24

38

0.25~0.40mm

up to 1.22mmm

32

0.25~0.40mm

up to 1.22mmm

28

0.25~0.40mm

up to 1.22mmm

26

0.25~0.40mm

up to 1.22mmm

24

0.25~0.40mm

up to 1.22mmm

2

T15 MAIN TEE

15

38

0.25~0.40mm

up to 3.75 meters

32

0.25~0.40mm

up to 3.75 meters

28

0.25~0.40mm

up to 3.75 meters

26

0.25~0.40mm

up to 3.75 meters

T15 CROSS TEE

15

38

0.25~0.40mm

up to 1.22mmm

32

0.25~0.40mm

up to 1.22mmm

28

0.25~0.40mm

up to 1.22mmm

26

0.25~0.40mm

up to 1.22mmm

3

T14 MAIN TEE

14

32

0.25~0.40mm

up to 3.75 meters

28

0.25~0.40mm

up to 3.75 meters

24

0.25~0.40mm

up to 3.75 meters

T14 CROSS TEE

14

32

0.25~0.40mm

up to 1.22mmm

28

0.25~0.40mm

up to 1.22mmm

24

0.25~0.40mm

up to 1.22mmm
1.Product Name: PaperGypsumBoard

Gypsum board is often called drywall, wallboard, or plasterboard. It differs from other panel-type building products, such as plywood, hardboard, and fiberboard, because of its noncombustible core and paper facers. When joints and fastener heads are covered with a joint compound system, gypsum wall board creates a continuous surface suitable for most types of interior decoration.

2.Specification of Paper Gypsum Board
Convenient construction

The plaster board can be constructed easily by nailing ,cutting, planning, thus it becomes the first choice among home decoration materials

Raw material


The gypsum board is characterized for lightness and high intensity, dryness operation, green environmental protect, convenient construction and good processing quality

Size(mm)

1200x2400, 1220x2440, 1220x1830, 1200x2700, 1200x3000 (width is fixed by 1200mm or 1220, length could be design by clients)

Thickness

7mm,7.5mm,8mm,9mm,9.5mm,10mm,12mm,

12.5mm,13mm,15mm,15.9mm

Surface treatment

Paper/PVC laminated/foil back

Desity

350-420kg/m³

Production capacity

10,000m2/day
3.Product characteristic
1) Easy installation
Gypsum board building systems are easy to install for several reasons. Gypsum board panels are relatively large compared to other materials. They come in 48- and 54-inch wide sheets and in lengths of 8, 10, or 12 feet, so they quickly cover large wall and ceiling areas. Gypsum board assemblies require only a few tools for their construction. Gypsum board can be cut with either a utility knife or a variety of saws, and it can be attached with a variety of fasteners, including screws, nails, and staples. It can also be adhesively attached to many substrates. Gypsum board is a lightweight material. Two workers can easily handle most panels and cover large areas in very short time periods. Gypsum board is easily finished using either a few hand tools or relatively modest machines. Gypsum board installers can quickly learn most application techniques in a few hours.

2) Durability
Gypsum board is used to construct strong, high quality walls and ceilings that offer excellent dimensional stability and durability. Surfaces created using gypsum board are easily decorated and refinished.
3) Economy
Gypsum board is readily available and easy to apply. It is an inexpensive wall surfacing material that provides a fire resistant interior finish. Gypsum board building systems can generally be installed at significantly lower labor costs than most alternate systems.
4) Fire resistance
Gypsum board is an excellent fire-resistive building material. In North America, it is the most commonly used interior finish where fire resistance classifications are required. Its noncombustible core contains nearly 21% chemically combined water, as described earlier, which, under high heat, is slowly released as steam. Because steam will not exceed 212 dgreees F under normal atmospheric pressure, it very effectively retards the transfer of heat and the spread of fire. Even after complete calcination, when all the water has been released from its core, gypsum board continues to serve as a heat-insulating barrier. Moreover, tests conducted in accordance with ASTM E 84 show that gypsum board has a low flame-spread index and a low smoke-density index. When installed in combination with other materials in laboratory-tested wall and ceiling assemblies, gypsum board serves to effectively protect building elements from fire for prescribed time periods.
5)Sound isolation
Preventing the transfer of unwanted sound to adjoining areas is a key consideration when designing a building, specifically when taking into account the intended activities of the occupants in the various parts of the building. For example, a building containing office spaces adjacent to manufacturing facilities requires more noise-reducing features than are typically necessary in a building that has only office space in it. Gypsum board wall and ceilings systems effectively help control sound transmission.
4. Accessory & Installation for Paper Gypsum Board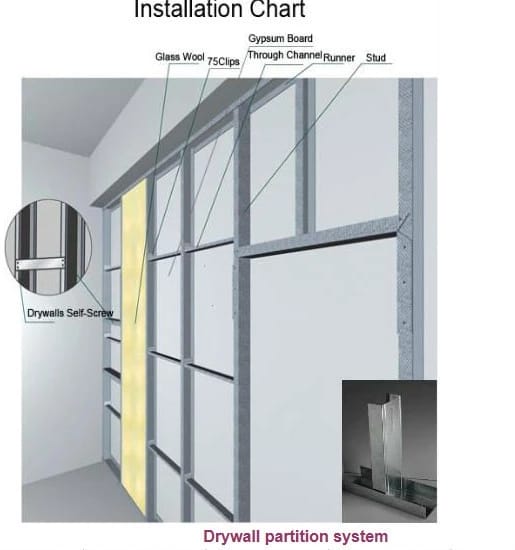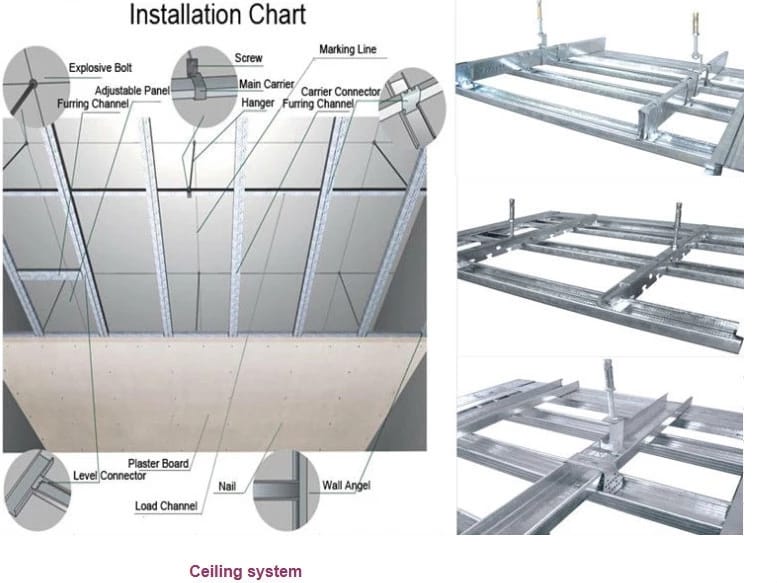 1.Framework
We recommend to use of RON's Galvanized Steel to build the frame. Using metal studs ensures accuracy, and they will not move or twist due to shrinkage or water ingress. In either case set studs at maximum 600mm centres.
2. Align the board
RON Gypsum board are laid horizontally. Start at one end and align the first board along the studs. Securethe board with RON screw at 250mm centres, ensuring that the screw are at least 15mm from the board edge. Do not overdrive the screws.
3. Clean the adjacent board edges
In order to ensure that maximum adhesion is achieved when jointing, the adjacent edges of the fixed board and the next board in sequence must be cleaned. Sinmply clean the edges with a wet brush to remove traces of dust - the edges do not need to be soaked.
4. Interior Joint Adhesive
Using a suitable gun, apply a continuous bead of interior. Joint Adhesive to the adjacent edge of the fixed the boards. The bead should be of sufficient size to fill the joint fully when the next board is offered up.
5.Place the next board
Align the next board and push it firmly into the bed of adhesive. The gap between boards shoul be less than 1mm. Secure the board with RON Screws.
6. Scrape of the excess adhesive
Scrape off the excess interior joint adhesive the next day using a flexible steel scraper.