perforated garage door machine Factory
Basic informaion of perforated garage door machine :
Zhongtuo shutter door machine production line is made up of uncoiler,feeding part,main roll forming system ,cutting system and receive table.
The production of shutter door machine are widely used in the production of various industrial plants, warehouses and supermarkets,shopping malls .
Zhongtuo rolling perforated garage door machine feature:
1.Take continuous production,there is no need to change the rollers in rough-forming section.
2.Shutter door machine production of pressure plate,stately elegance,beautiful novel,appearance smooth, corrugated uniform, high utilization, high strength, high degree of automation, low cost and durable.
Main specifications of perforated garage door machine :
Take one type of machine for example:
| | |
| --- | --- |
| Processing material | colored steel plate, galvanized plate, or aluminium plate |
| Material thickness | 0.8---1.2 mm |
| Material hardness | 550 mpa---350 mpa |
| Material width | 1000mm |
| Formed width | 747mm |
| Forming speed | 12m/min |
Working Process of this machine:
Decoiling--active feeding--roll forming--measuring length--pressing--cutting to length--product to stand
Main elements:
Decoiler, main forming machine, hydraulic pressing, hydraulic cutting, product stand, hydraulic system, electric system.
1. Decoiler
1.coil inner diameter: 450-550mm
2.coil max width: 1250mm
3.max carrying capacity: 5000kg
Usage:It is used to support the steel coil and uncoil it in a turnable way.
Passive uncoil pulled by roll forming system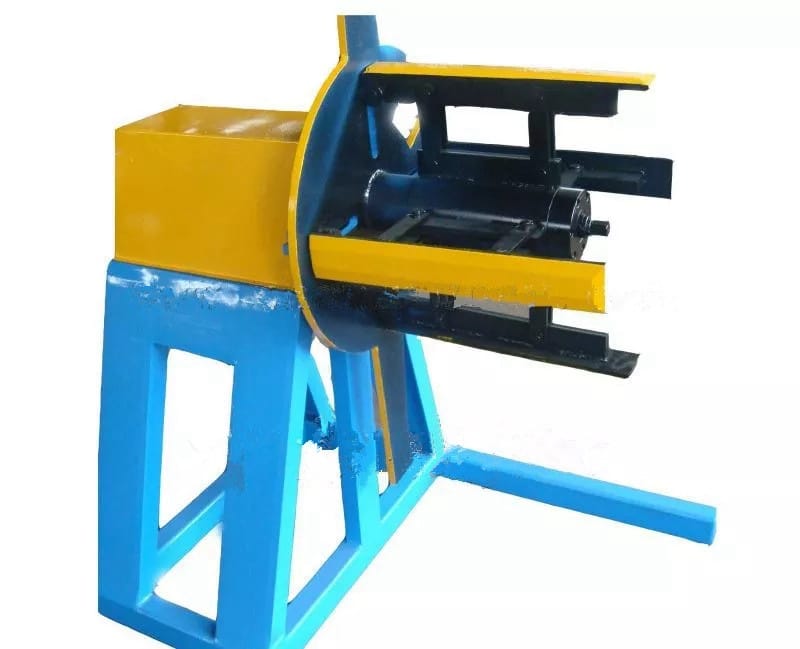 2. Active feeding
Usage:Put the raw material(steel plate) through the beach to manufacture and process,
it can guarantee that the products are neat, parallel and everything is uniformity.
Please refer to the equipment regulation to know the function of locate angle iron.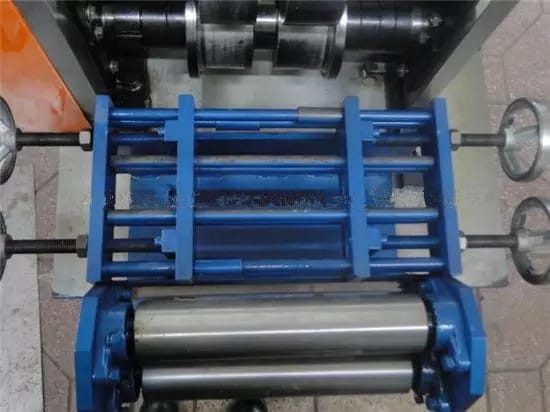 3. Main forming machine
1. Shaft material & rollers material & shaft diameter
45# steel adjustable treatment; 45# steel, polished, plate of chrome 0.05mm; 60mm
2. power: 5.5kw
3. Transport; Motor; chain drive
4. Forming speed; 8-12m/min
Usage: In order to keep the product shape and precision, adopts welded sheet structure, motor
reducer drive, chain transmission,roller was chromed which can keep the molding plate surface
smooth and not easy to be marked when it is being stamped.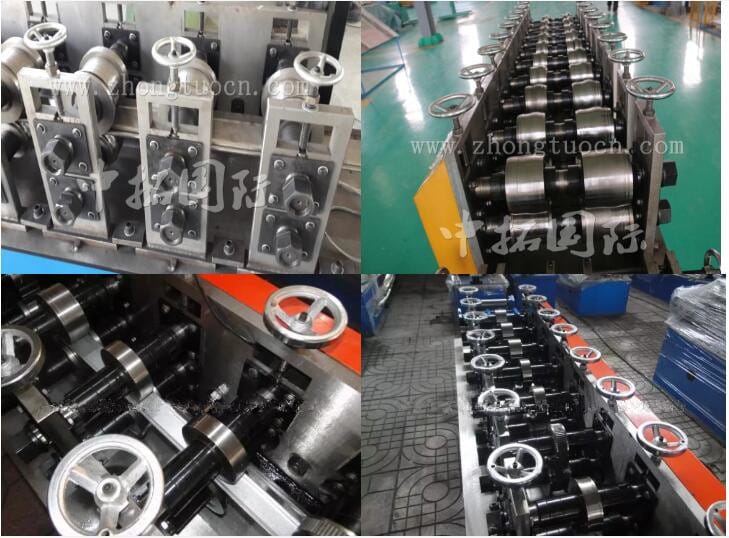 4. Hydraulic cutting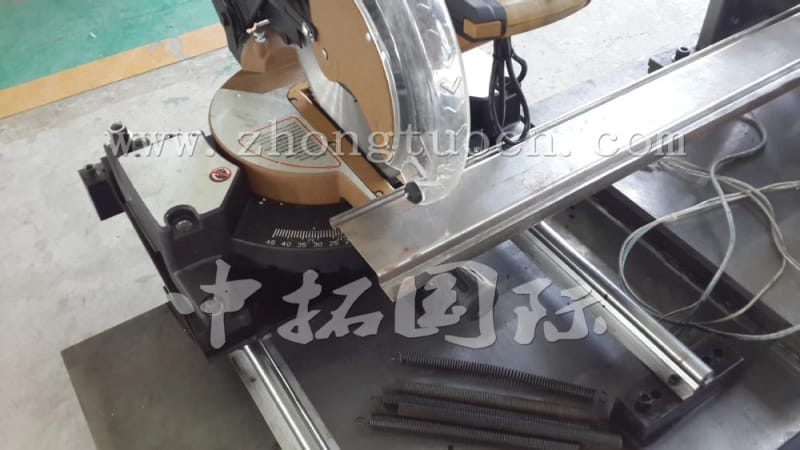 1). Material: blade, puncher and mold material: Cr12 steel with quenched treated 60-62
2).Cutting system: advanced hydraulic drive, automatic cutting after forming, no distorting or
wasting, high level safety factor.
It adopts the hydraulic drive and automatic location to decide the dimension and cut the target
products.
Material of blades: Cr12 quenched
Power supply : hydraulic power
Components:It contains one set of blade, one hydraulic tank and one cutter machine
5. Product stand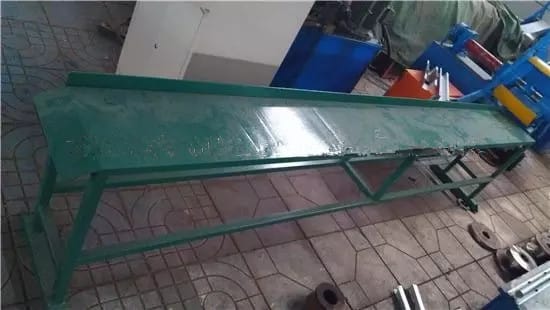 6. Hydraulic system
1. Advanced hydraulic system from Taiwan
2. Power: 5.5kw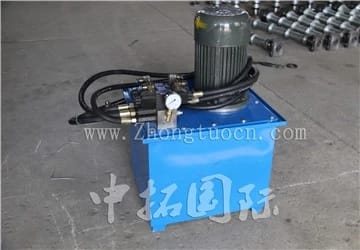 7. Electric system
1. screen: text screen displayer
2. PLC: Taida DVP14ES from Taiwan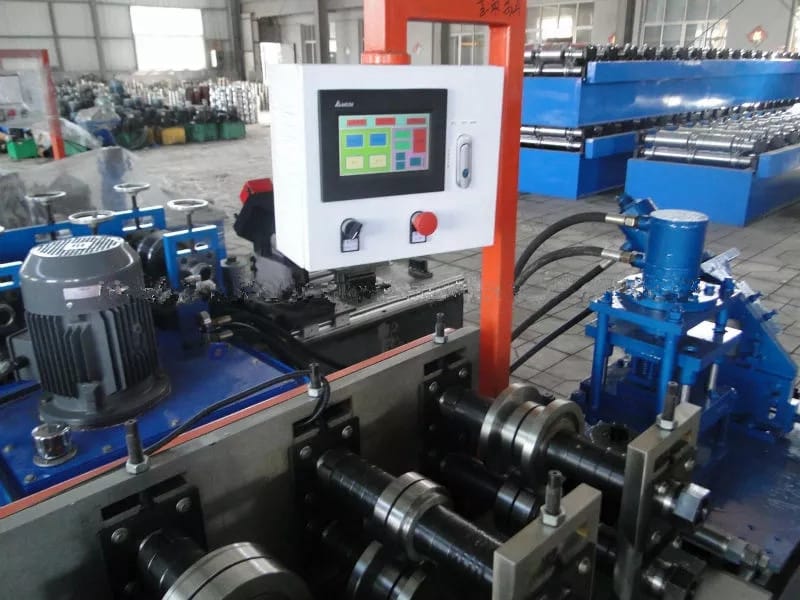 8. Products